Ripple (XRP) could break above $ 0.30 and climb even higher, and the bulls are likely to target $ 0.40 in the next bullish wave.
XRP has been trading sideways for the past few days as Polkadot (DOT) outperformed the fourth largest cryptocurrency by market cap due to its lack of significant upward movement.
XRP's underperformance started as soon as the SEC filed a lawsuit against the company and its top executives meant it was increasingly likely that XRP's position would be taken by the best like DOT.
However, Ripple could finish in the top three again if the price breaks out of consolidation and retests the 50-day simple moving average on the daily chart. So XRP could rally to new highs since the beginning of the year.
At the time of writing, Ripple's native token is up 3.2% and is trading at around $ 0.28.
XRP Price
The 4-hour chart shows that buying pressure is increasing. The Relative Strength Index (RSI) indicates a positive divergence above the 50 line.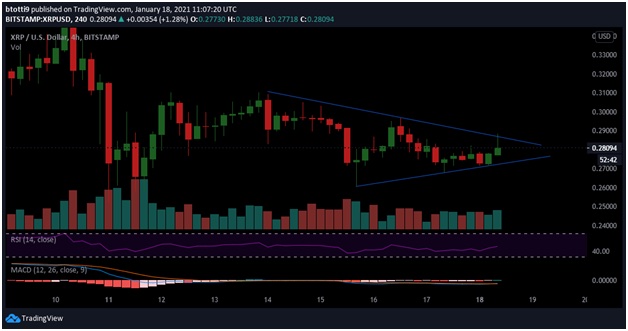 The MACD also proposes a hidden bullish turn. Where the shorter 12-day curve indicates that the 26-day EMA curve is being exceeded. If the indicator strengthens in the coming sessions, momentum can be expected to turn in the direction of the bulls, with XRP trading higher.
The chart also shows that XRP is also trading above the 100-day simple moving average. If buyers maintain bullish momentum and resistance to a breakout at the 50 SMA on the 4-hour chart ($ 0.29), an extended action above $ 0.30 could cause XRP / USD to corner its sideways area.
The daily chart shows two targets above the $ 0.30 price level that could be critical for XRP's short-term price action. The first is a horizontal resistance line just above $ 0.32. Previous attempts at further advance stalled at this level.
If XRP succeeds in turning this barrier into support, the higher daily candles will provide the cushion buyers may need. Because it is targeting the 100-day simple moving average of $ 0.36.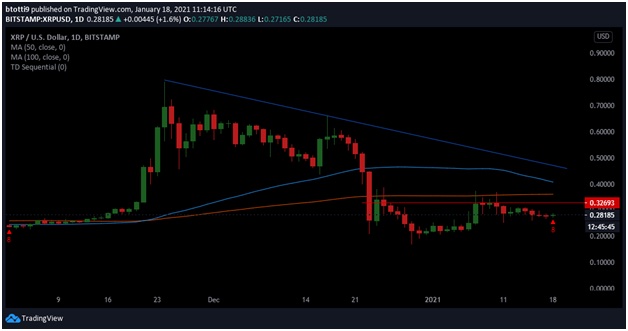 The technical outlook for XRP also suggests a possible buy signal on the daily chart. If the signal flashes in the form of a red nine candle in the next session, an influx of buyers is likely to push XRP / USD higher due to rising volumes.
That means that a breakout above $ 0.36 has a chance for a further bullish move. If so, XRP could retest the resistance around the 50-day SMA ($ 0.40).
The downside to the bullish picture above will be a drop in initial support at $ 0.25. If bearish pressure builds around this price level, it could spell a further pullback towards the long-term support zone at the $ 0.20 area.