Bitcoin (BTC) mining difficulty just had its biggest drop since 2011 and the second biggest in the history of the network.
According to the major mining group BTC.com, the mining difficulty, which is the measure that shows how difficult it is to compete for mining rewards, has fallen more than almost a 15% estimated yesterday. It fell 16.05%, which is the biggest drop it has seen in 9 years, reaching 16.79T, or the level last seen in July / August.
The last time mining difficulty fell more than this was on October 31, 2011. It was down 18.03% to just 1.2M. This was actually the biggest drop in bitcoin history.
This adjustment is particularly relevant when we consider recently skyrocketing fees on the Bitcoin network, crowded mempools, falling hashrate, reportedly due to Chinese miners relocating equipment for the dry season, and consequently, numerous users reported that they had to wait hours or days for their transactions to be confirmed. Many have been seeking some relief in this difficulty setting.
Feerates are back to Thursday levels, but below Friday's. The mempool exceeded the default limit again.

The difficulty reset is coming in 28 blocks. Tomorrow morning (EST) should start seeing faster blocks, but I don't expect the depth to me quickly reduced. pic.twitter.com/o4osdVzxe5

– 𝙼𝚞𝚛𝚌𝚑 (@murchandamus) November 3, 2020
The hashrate (the computing power of the network) fell from the average 142.94 EH / s two weeks ago to 120.12 EH / s after this adjustment. BitInfoCharts.com also shows a sharp drop in the BTC hashrate: 26.6% to 108.29 EH / s since October 18.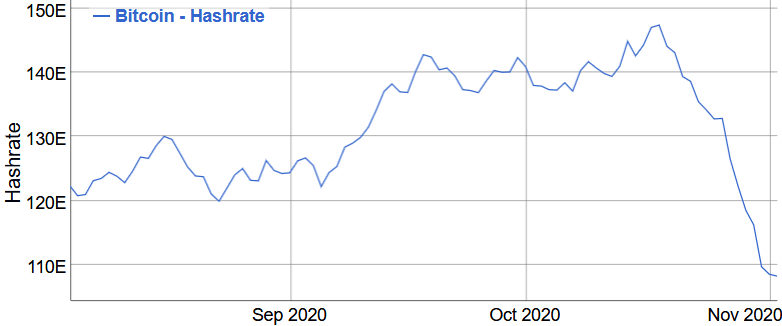 As a reminder, the Bitcoin mining difficulty is adjusted every two weeks (i.e. every 2016 blocks) to maintain the normal block time of 10 minutes. BitInfoCharts currently shows that this average time between blocks is over 13 minutes.
Also, according to ByteTree, miners continue to pass their tokens instead of keeping them. Miners generally build their inventory during market weakness and sell strong.

At the time of writing, BTC is trading at $ 13,671.36. registering + 1.41% in the last 24 hours and has risen by 0.41% in the last week.