The PP shortens the gap with the PSOE, which would continue to win the elections, according to the CIS
[ad_1]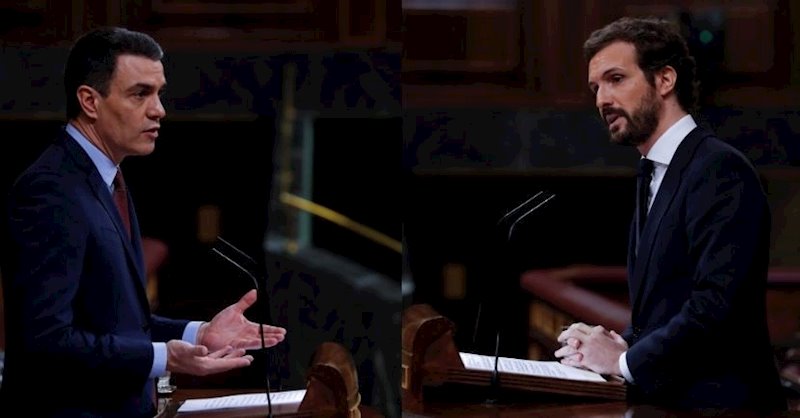 The PSOE would remain the most voted party if elections were held today. However, the PP shortens distance after the socialists lose seven tenths in voting intention and the popular win eight, according to the latest barometer of the Center for Sociological Research (CIS) published this Thursday.
The survey, which was carried out between October 1 and 7, shows that the PSOE would obtain 30.8% of the votes, with a slight decrease compared to the previous one, while the PP would get 18.9%, somewhat above last month, but still below the 20.8% registered in the 2019 general elections. In this way, the distance between the two parties goes from 13.4 points to 11.9.
For its part, United we can would be placed as the fourth political force by obtaining 11.7% of the votes and Vox it would stay in third position, with 12.5%. Citizens, in fifth place with 8.8% support, breaks the upward trend of the last barometers. With these results, the sum of the PSOE with Unidas Podemos would be 42.5% of the votes, surpassing that of the PP, Ciudadanos and Vox, which would reach 39.4%.
As for the assessment of the political leaders, they all fail again. Despite this, Pedro Sanchez is still the one with the highest score, 4.3, followed by Inés Arrimadas, with a 3.9. From behind is placed Pablo Casado (3.3), Pablo Iglesias (3,2) and Santiago Abascal (2,5), which is again the worst valued.
In this sense, it highlights that when asked which of the leaders he prefers to be the Prime Minister, the option with the highest number of responses is 'none', with 28%. However, when it comes to giving specific names, Pedro Sánchez stands out from the rest, achieving 25.3%. Far is 9.1% of responses for Pablo Casado, followed by Inés Arrimadas (8.6%), Santiago Abascal (5.6%), Pablo Iglesias (4.6%), Íñigo Errejón (3.7% ) and Alberto Garzón (2.4%).
. (tagsToTranslate) shortens (t) distances (t) PSOE (t) would continue (t) to win (t) elections (t) according to (t) Category: All (t) Category: Europe Report (t) Category: International News ( t) Category: Political News (t) Category: Pulsos (t) Category: Pulsos Europa (t) mostread_politica (t) mostread_internacional

[ad_2]