[ad_1]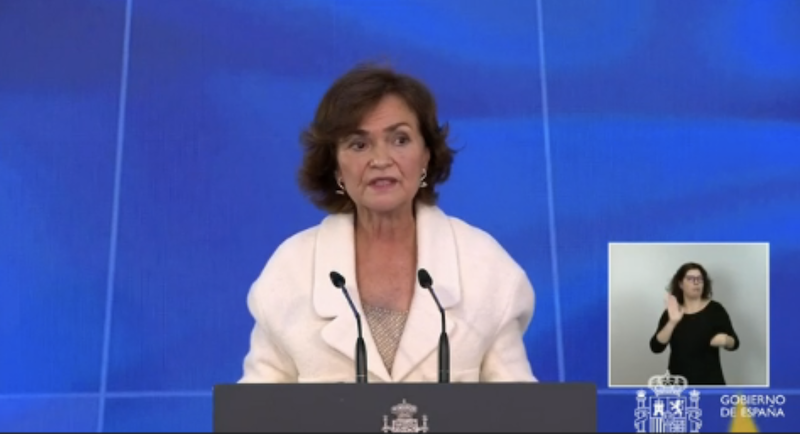 The four vice presidents of the Government – Carmen Calvo, Pablo Iglesias, Nadia Calviño and Teresa Ribera – have appeared this Wednesday to break down the items of the 'Recovery, Transformation and Resilience Plan of the Spanish Economy', after the presentation by the president of the Pedro Sánchez Government.
Spain is facing a great challenge, therefore all Spaniards are, "said Calvo. "We are risking the future in this present," continued the first vice president.
"We need a change in the political culture of our country," he said, before asking politicians for cooperation and that they think of "the common good before all of us." "It is about causing changes in our country and transformations …
"We need General State budgets in which the map matches reality." The resources that come from the European Union (EU) have to be added. He has emphasized that a "profound reform of the public administration" is needed to speed up procedures.
"In our project there is a new law of public administration", Calvo has announced, for "effective management of funds in our country." It will proceed to a Royal Decree law
The President of the Government, Pedro Sánchez, presented this Wednesday the 'Recovery, Transformation and Resilience Plan for the Spanish Economy' that Brussels wants to know before October 15. According to Sánchez, the bulk of the effort will be made in the first three years, with 72,000 million euros for the period 2021-2023. "The calendar has to be accelerated. It needs to be launched as soon as possible."
"We will focus on projects that can be launched in the next three years," said the President of the Executive Branch, also announcing that they plan to create more than 800,000 jobs. "The plan will help to rejuvenate our productive fabric: young people have to be the first", he assured.
. (tagsToTranslate) Calvo (t) asks (t) "solidarity (t) politicians" (t) for (t) ones (t) "PGE (t) coincide (t) reality" (t) Category: All (t) Category: Political News (t) Category: Pulses

[ad_2]