The sky appears to be the limit for ethereum (ETH) transaction fees, as the median transaction price touched nearly $ 3.5 yesterday, hitting a new all-time high and rising for the first time since a bug seemingly derailed prices. decentralized finance (DeFi). Additionally, total gas rates reached a whopping $ 7.1 million on August 30.
Figures inflated by Yam saw a spike in total gas rates of $ 8.6 million on August 13. But just after a bug wiped out 90% of the Yam token's market capitalization in the space of a few minutes, those figures fell to $ 2.56 million. However, this drop appears to have been very short-lived as yield farming continues to grow and ETH fee figures start to skyrocket again as of Aug. 28, according to data from BitInfoCharts.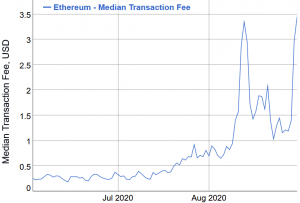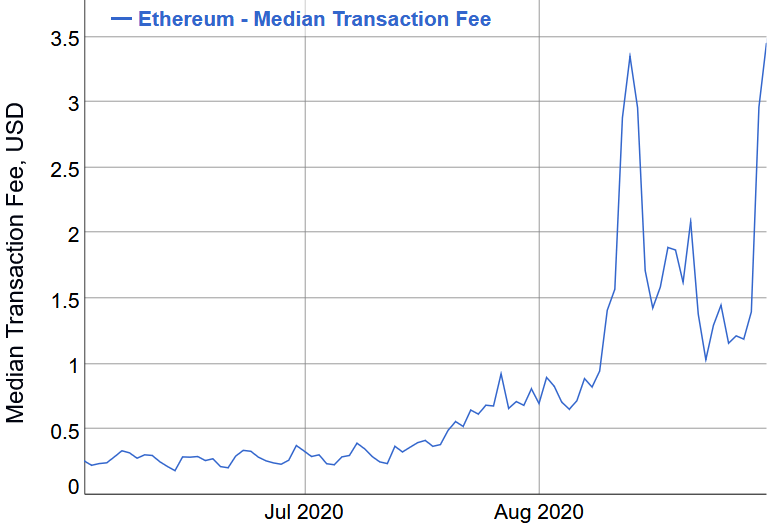 Yam may have had its day, but DeFi apps, which operate most frequently on the Ethereum blockchain network, seem to be doing well.
The long-awaited launch of Ethereum 2.0 may not come soon enough for some, who are hoping that this event will finally cause gas rates to drop to more reasonable levels.
According to a post in the Daily Gwei by Anthony Sassano, co-founder of Etherhub and product marketing manager at SetProtocol, the help could come in the form of two promising prospects on the net.
Sassano, referring to a series of Twitter posts from Tim Beiko, Product Manager of ConsenSys, take note of two Ethereum clients called Vulcanize's Geth fork and Besu.
These clients, he notes, "have an implementation built for Ethereum Improvement Proposal (EIP) -1559." The proposal, Sassano notes, "could improve the Ethereum fee market and introduce a burn mechanism that would burn some ETH in every transaction."
However, experts say extensive work still needs to be done on these clients, EIP-1559, and other potential ETH solutions before an update materializes.
The prognosis,
"If I were to give an estimated time of arrival in EIP-1559, I would say maybe (maybe big) within the next six to 12 months if we can bring the community together so this becomes a standalone Ethereum network upgrade. ".
The expert added a caveat, however, writing,
"Of course, this ETA is moot if there are major hurdles emerging in the coming months, please don't limit me to this estimate!"
Online, social media was awash with commenters who chose to see the bright side of the developments, with some ironically asserting that the escalation fees were part of a grand scheme by the founders for ETH owners to HODL their tokens, instead of charging or exchanging for other currencies.
And, of course, the memes were not lacking …
please no more Vitalik pic.twitter.com/Mi6AAmqpOP

– moon is tweeting (@MoonOverlord) August 31, 2020