The Ibex 35 was approaching, a few sessions ago, the resistance of 7,663 points, prices where it presents the bearish gap that was left on June 11. It has not been able to with these prices and it is that the great values ​​of the selective such as Telefónica, Santander or Inditex continue to offer a complicated technical aspect without any signal that makes us be optimistic for the coming weeks.
Technical analysis
Telefónica it does not stop giving symptoms of weakness. This past week the company lost support at 4.14 euros, canceling what seemed to be the beginning of a recovery. The value of the Ibex 35 seems that it could continue with the decreases to the level of 3.60 euros or we do not even rule out an extension of the falls to the annual lows that it would draw in the month of March at 3.38 euros. To see a sign of strength, we should wait for its price to rise above 4.40 euros. However, the key resistance is at 4.81 euros. We will only consider a change in trend with the overcoming of this price level, levels more than 20% above the current ones.
Let us advise you on your investments. Try Trader Watch free 7 days. In the last year we accumulated a revaluation of 281.25%.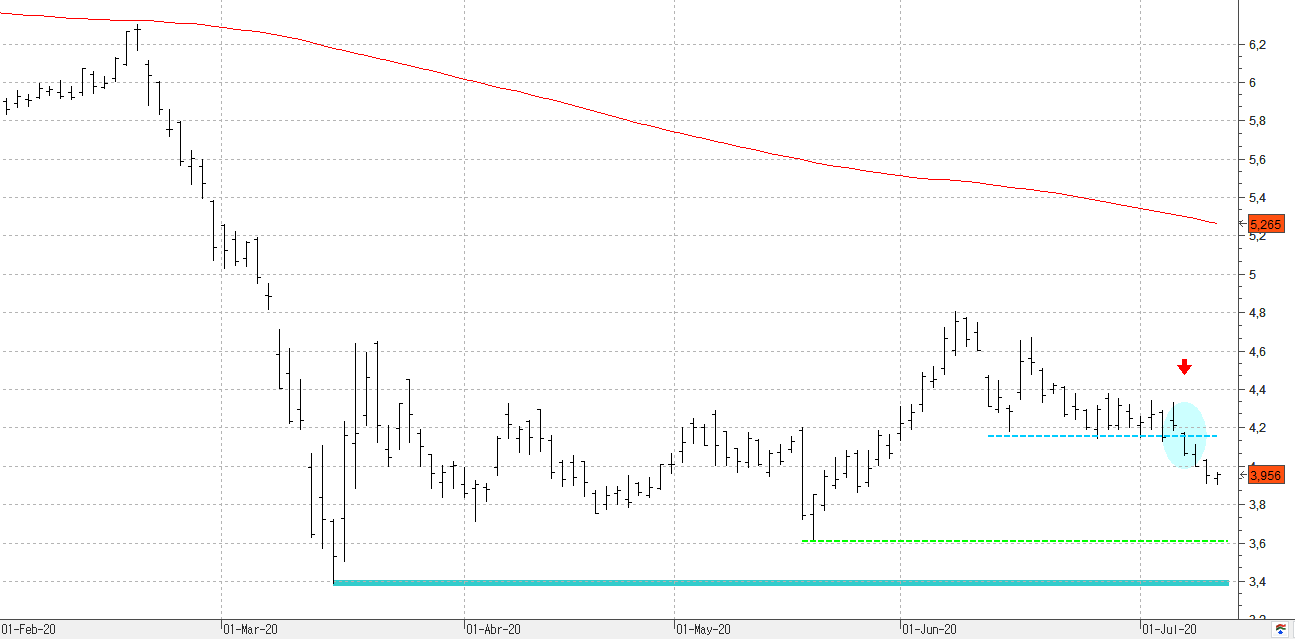 Santander It has not been able to cancel the bearish gap that was left on June 11. This is undoubtedly a sign that shows the absence of buying pressure in the company and that makes us be very aware of the abandonment of the support of 2.09 euros. Much eye with the abandonment of this level of demand since we could end up seeing a continuation of the falls until the annual lows of the month of March in the 1.77 euros. To confirm a signal of strength, we should wait for a close above 2.60 euros, prices close to 20% above current prices.
Inditex It failed to rise above the 200-session average last June and since then it has been drawing increasing lows that have led to its price moving in the immediate vicinity of the support of 23 euros. We do not rule out that it could end up abandoning this level of demand, which could drag its price to the level of $ 21.54 last stop before the annual lows that it would draw at 18.50 euros. The key resistance is at 27.23 euros, prices where the average of 200 sessions converges. We will never see even the slightest sign of strength as long as it remains trading below this level of supply.