In a few hours, the price of Bitcoin (BTC) has registered impressive levels, returning to the prices of the past week, and many people have wondered: why is Bitcoin falling?
As a result, some have noted that the BTC price may be falling due to miners.
Significant outflows from the unknown miner before the dip. They're CAPITULATING.https: //t.co/WVdBy1t17E pic.twitter.com/1LQeLYpY6X

– Ki Young Ju (@ki_young_ju) June 2, 2020
The graphic, shared by the CryptoQuant CEO Ki Young Ju, shows the trend of the bitcoin price in correlation with the movement of a mining group: precisely when the price exceeded 10 thousand dollars, the mining group sold more than 2000 BTC, selling enough to destabilize the market.
This sale also occurred on May 20, 2020 with more than 5000 BTC.
Capitulated on May 20 as well pic.twitter.com/tgc10f3zEO

– Ki Young Ju (@ki_young_ju) June 2, 2020
We are talking about a really large mining group, the fifth in terms of power.
This illustrates how true it is that mining groups and miners can really move the market at will, a concept repeatedly discussed by the cryptocurrency community, especially due to fear that a single mining group may have too much hashrate and, therefore So, control the blockchain.
Is BitMEX the reason for Bitcoin's crash?
Others, on the other hand, think that the price of Bitcoin is now falling due to BitMEX and settlements of more than $ 120 million, as can be seen in the chart reported by Skew.com.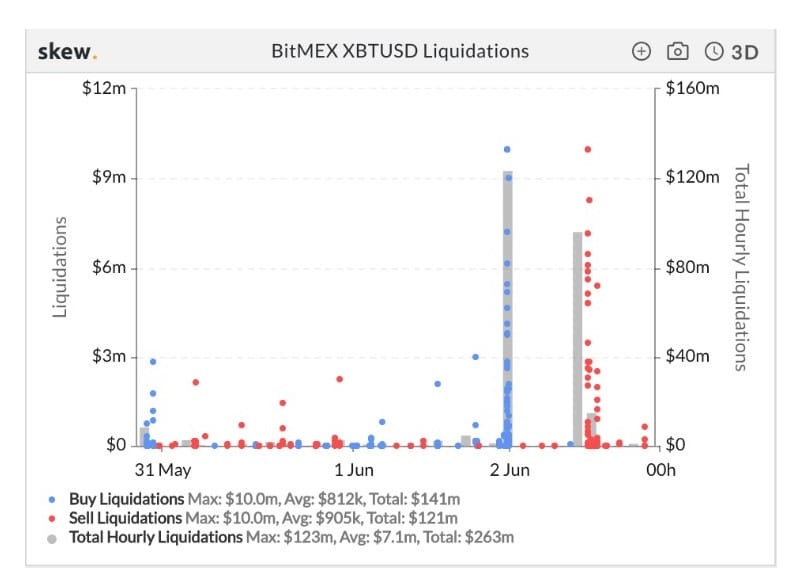 The exchange would have settled too many BTCs at once, leading to a market crash.
It is not the first time that BitMEX has recorded such transactions and it certainly will not be the last, especially since it has recently launched other products, including swaps and futures, that are appropriate for these fluctuations.
It is worth mentioning also the problem detected by Coinbase– The exchange was unable to handle the significant increase in BTC purchase demand and sent the platform offline, blocking users and redirecting them to other platforms that remained active.
Bitcoin's Bart Chart
In any case, it is interesting to observe how the Bitcoin (BTC) price trend has followed the so-called "Bart Chart", that is, it takes the shape of Bart Simpson's head, starting from the left and continuing up and towards down for a short period and then drop sharply.