How to create a token on the TRON blockchain? and How to choose the type of token, either TRC10 or TRC20?
Note: The token was created for the purposes of this guide only.
Before we begin, there are a few things that are required:
A TRON address (1024 TRX), assuming a TRC10 token is being created;
An address with a smart contract, if a TRC20 token is being created.
To create a TRON blockchain based token the first thing you need to do is go to the platform Tronscan and connect a wallet to the platform using the button found in the upper right corner.
Then, navigating in the Blockchain -> Token Tracker menu, it is necessary to select the Create token item that can be found on the right side of the screen.

At this point, the platform will ask what type of token will be created, be it a TRC10 or a TRC20. The platform offers useful tips to decide the type based on the purposes of the token.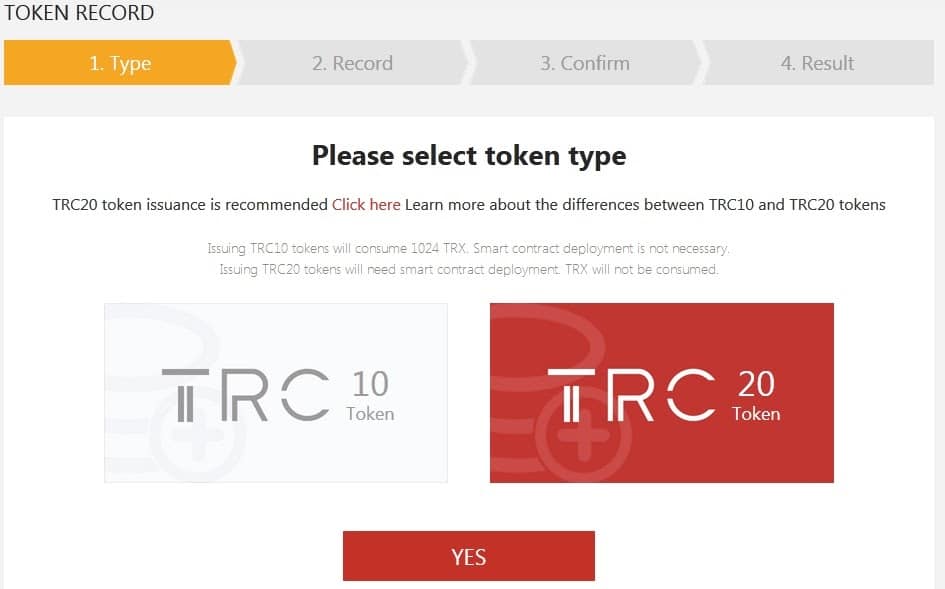 Then some data about the token will need to be entered here such as name, ticker, total supply and as far as the TRC10 token is concerned it is also possible to determine how much 1 token will be worth compared to TRON (TRX) either for freeze them or set a release time for tokens; while in regards to the TRC20 tokens, all the information related to the project must be entered, such as the address of the smart contract, various social networks and the address of the technical document.
Once all the information has been entered, it is possible to create the new token: for the TRC10 tokens it will be necessary to pay a fee of 1024 TRX, around $ 13, while for TRC20 tokens no fee to be paid, but it is necessary to have the address of the smart contract so that the data can be referenced and the address loaded correctly.
With a few clicks and a few dollars, it is possible to create a TRON based token from scratch without having to know any programming.