Bitwise recently published a study that verifies the position of financial analysts in the cryptocurrency market. Of the relevant data discovered, 13% of analysts are expected to allocate their clients' funds in cryptocurrencies, 76% of analysts receive questions from their clients about cryptocurrencies and 37% of interviewed analysts believe that Bitcoin will be worth between $ 10,000 and $ 25,000 in the next 5 years.
The investigation has to do with the ETF order
Bitwise announced on January 15 that it would withdraw its ETF order from the SEC. Combined with the published study, the announcement could mean that Bitwise is more closely analyzing the cryptocurrency market in the United States and looking for the best way to address it. The analysts interviewed were brokers, independent professionals, financial planners and representatives of fund managers.
76% of the analyst clients interviewed received questions about cryptocurrencies. However, only a small fraction of customers ask, from 0.01% to 5%. This does not rule out another important fact, which concerns 34% of customers who invest in cryptocurrencies on their own, an expressive number if we consider 37% of the analysts who responded that they do not know if their clients invest on their own or not.
In addition, the number of financial analysts who plan to allocate funds in cryptocurrencies will double, according to expectations, from 6% to 13% of the analysts interviewed.
More numbers
In the study, direct and very relevant questions were asked to estimate the public's opinion on the traditional financial market on cryptocurrencies. When asked about the expectation of the appreciation of Bitcoin, 52% of analysts believe that Bitcoin will appreciate in the next five years, including 4% of them believe that the value will exceed $ 100,000. Only 8% of analysts believe that the dominant cryptographic market value will melt to zero.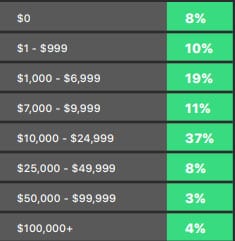 On what attracts them to allocate their clients' funds in cryptography, 54% responded that the lack of correlation with other assets is a positive point, while 30% responded about the possibility of large profits. It is noteworthy that 26% of the analysts interviewed responded that their clients are asking.
When responding on where they will obtain amounts to allocate cryptocurrencies to their clients, 57% of the analysts who participated in the study responded that they will collect "alternative" reserves.
Perhaps one of the most important questions in the study has led analysts to say why they have not invested in cryptocurrencies so far. The majority (56%) justified it with "regulatory concerns." Other responses that were frequently given are "lack of understanding," "volatility," "lack of investment instruments such as ETFs" and "I don't know how to determine the value of a crypto."
Finally, at points that would motivate an investment in the cryptocurrency market, 58% of analysts responded that clearer regulations would help. Issues such as "better custody services" and "launch of an ETF" were also frequently raised.